If you have the time to sit down every day and update information, change blogs, change your content, then you might be coping now. Just. A lot of companies find being small is manageable but as they grow, the demands of the business are too much for their current set up and they struggle to keep on top of their website.
What could a website management company offer you?
Many companies will pretty much offer you a bespoke service and do what you need them to do. It may be monthly packages or a pay as you go ad-hoc services.
Content Updating – From changes to information on pages, about pages, practically any change to the content of your website. Even imagines or videos.
Website backups and updates – They will back up your website/content to their servers, so if anything goes wrong you always have that backup.
Search Engine Optimisation – This is key and underestimated by so many businesses, especially those in their infant stage. Having good SEO means accessing top rankings in google. You need those keywords to help people find you and if you can get an expert to tap into the right keywords, you might see yourself on that first page of a google search.
Social Media Management – They can help take over your accounts whether it is Instagram, Facebook, Twitter, Google Plus and more. Knowing how these platforms work is key to how you use them and each one has slightly different formatting. If you haven't got time to update your website, chances are your social media pages are suffering too.
Website development and design – Do you need help designing your website or maybe need an overhaul, with your input they can do that too. Having an eye catching or relate-able design will help potential clients understand more about the company and get a feel for what you do. For example, A bank website design will often be orientated around money, families or businesses (people in suits).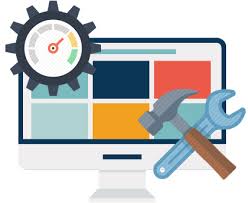 How an external website maintenance service will benefit you
Time – Once you have established what you need with your support company, you will notice just how much time you will get back. Updating content and changing your website around can be extremely time consuming. This means you can concentrate on other aspects of the business.
Expertise – You will benefit from their experience and expertise.
Success – The right company will help you grow and you will notice their input in the long run.
It is something you should consider if you want your company to grow. Having a website is a must for this day and age, so it needs to be current and needs to meet the demands.